DOOH became one of the fastest-growing media sectors in the world in 2022, with the rise of programmatic DOOH helping to drive interest and investment in the space. According to recent research, 94% of media professionals plan to increase their investment in the channel in the next 18 months, and nearly one-fifth (20%) plan to significantly increase their investment by doubling it.
DOOH, which stands for digital out-of-home, is an innovative form of media known as outdoor or out-of-home (OOH) advertising. Unlike online and other device-based digital marketing, DOOH media is found on billboards, LED screens, and digital signage placed in high-traffic public spaces people already frequent outside of their homes. It allows brands to seamlessly connect with consumers as they go about their daily lives, delivering contextually relevant content to targeted audiences at scale.
What does DOOH mean? Defining digital out-of-home media and advertising
Out-of-home (OOH) advertising is media found in public spaces outside of the home. In the past, OOH was synonymous with the huge splashy billboards you'd see by the sides of interstate highways—high-impact static imagery perfect for spreading awareness to a large audience for a relatively low cost-per-impression. But as the rest of the world underwent digitization in the past few years, so did OOH messaging and media.
Digital out-of-home (DOOH) advertising, or DOOH media, is outdoor advertising 2.0. Dynamic, data-driven, and capable of delivering measurable impact and proven results, DOOH refers to any digital media that appears in environments accessible to the public. This includes digital billboards and outdoor signage, as well as digital signage networks found at retail stores, inside elevators, or connected to public EV charging stations.
Because it's such a broad category, you can find examples of DOOH pretty much everywhere – from large-scale, multi-screen takeovers in Times Square to digital menu boards in fast-casual restaurants.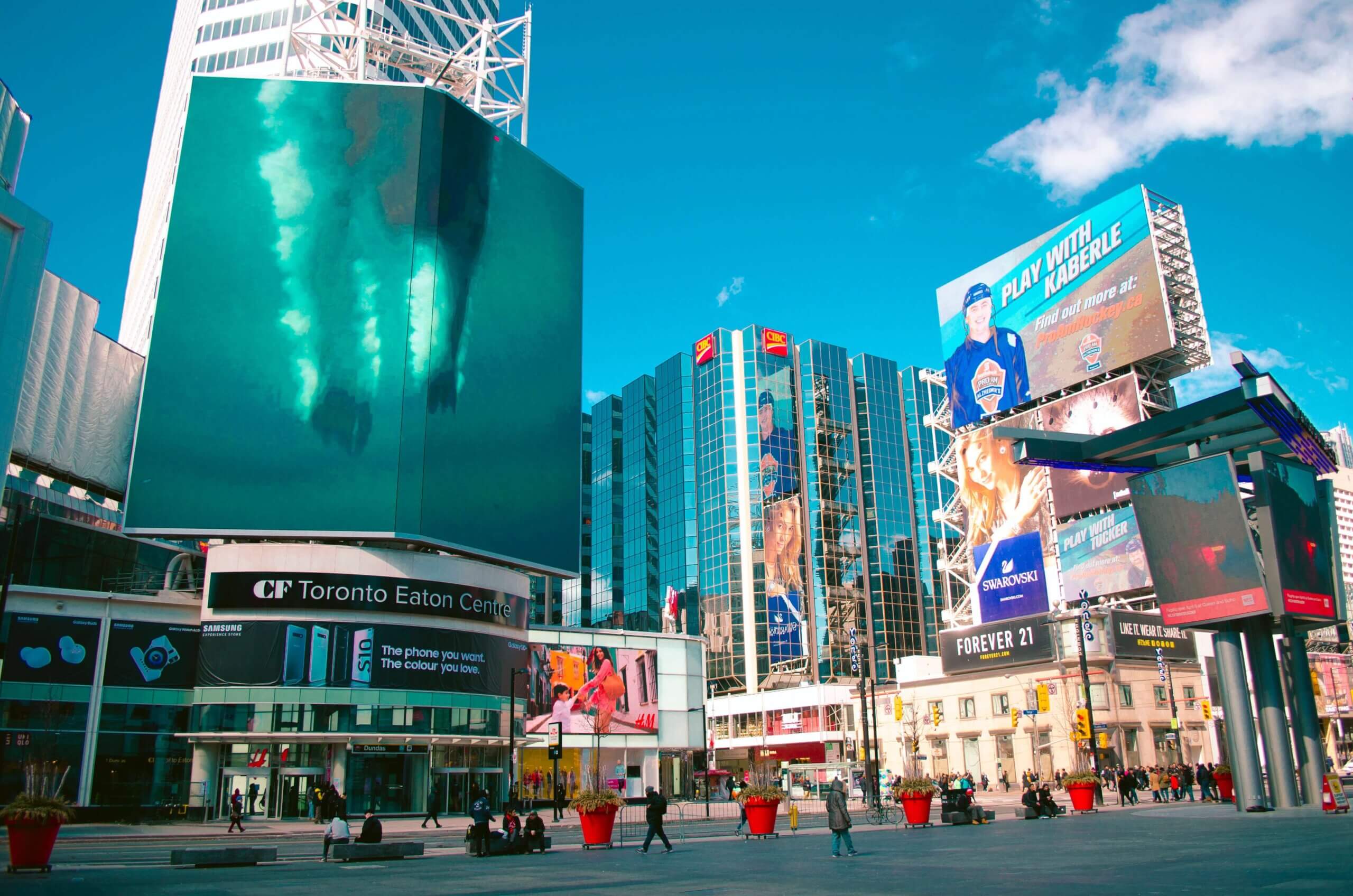 The evolution of digital out-of-home (DOOH) advertising
OOH is one of the oldest forms of advertising. But despite this channel's legacy and all of its acknowledged benefits, traditional OOH has historically had an achilles heel: the difficulty of reliably measuring and proving its impact. As brand marketers and advertisers made the move en masse to online digital advertising, with its granular (re)targeting and attribution capabilities and data-backed reporting, their expectations for advertising channels evolved—and the exciting new world of digital OOH has risen to answer the call.
Advancements in digital signage screen tech and OOH ad-serving software have made former blockers – such as imprecise audience targeting, a lack of campaign measurement tools, and the amount of time required to launch or make changes to a campaign – things of the past. In addition to enhancing the visual capabilities of static adverts through sound and movement, today's DOOH setups deliver full-funnel activation and measurement, enabling brands to reach their target audiences in context and at scale.
Notable capabilities of digital OOH include:
Programmatic transacting (pDOOH) for ease of omnichannel campaign integration, audience- and moment-based targeting, and automated transacting
Support for multiple content formats, including digital imagery, full-motion graphics, 4K video, and dynamic HTML5 content
Real-time data integration for fast and flexible campaign scheduling and up-to-the-minute measurement and reporting
Conditional and triggered playback with built-in data sensors that enable dynamic and interactive campaigns and deliver increased content relevancy
DOOH has spread beyond the simple one-way broadcasting of information. Today, the focus is increasingly on interactivity and engagement as well as interoperability of devices and integration of content platforms for an omnichannel approach: using multiple types of screens, from desktop computers to video walls to cell phones, together to tell a unified, customer-centric story.
Examples of DOOH inventory and formats
Today, you can find digital signage in almost every environment, from smart cities to cinemas, hotels to gas stations, by the sides of major roads and interstate highways – the list is nearly endless. With its many benefits, including flexibility, creativity, and scalability, DOOH and digital signage networks are popping up everywhere. To help break down this extremely broad category, let's explore some of the most common venues and formats.
Large format
Think about your daily commute to work—whether you drive, take public transit, or walk into the office, you probably pass some form of digital OOH signage. Typically aimed at pedestrians and street-level traffic, large format DOOH includes media shown on digital signage placed next to highways, on bus shelters, or on the sides of city buildings. They're perfectly positioned to reach a huge audience of consumers from the moment they leave home in the morning to whenever they make their way back later that evening.
Examples include:
Roadside billboards
Transit and bus shelters
Street furniture
Spectacular displays (like Times Square)
Pros:
Delivers high-impact exposure to a wide audience
Located in strategically important and high foot-traffic locations
Ideal for cost-effective brand awareness campaigns
Place-based advertising
Also known as location-based advertising, place-based media is designed to reach consumers where they spend much of their time outside of their homes, with targeted messages based on location. This allows advertisers to tailor their messages for added contextual relevance – for example, targeting movie goers with snack food ads, or gym users with sportswear.
Examples include:
Office buildings
Colleges and universities
Doctor's and vet's offices
Spas and beauty salons
Movie theatres
Gyms
Hotels
Bars and casual dining
Pros:
Allows for increased contextual relevance/Contextually relevant messaging
Customizable according to target audience, screen location, and display time
Ideal for reaching a captive audience as they go about their daily lives
Point-of-purchase
DOOH inventory in gas stations, grocery stores, and other retail locations is exceptionally placed to influence consumers close to the point-of-purchase. Digital end caps and screens placed on shelves or near checkouts can be used to boost a brand's visibility to high-intent customers.
Examples include:
Gas stations
Convenience stores
Grocery stores
Shopping malls
Parking lots and garages
Pros:
Boosts visibility close to point-of-purchase
Engages high-intent customers on the go
Perfect for CPG or other consumer-focused brands that want to increase brand visibility and sales to audiences
Advantages of DOOH media & advertising
In many ways, DOOH addresses the problems of OOH advertising while retaining the best features of conventional outdoor ads. But it also offers advantages other digital media and advertising channels simply can't. Let's break down some of the capabilities that DOOH enables when running on a dedicated digital OOH media platform.
Bypass online ad blockers to build brand awareness
As brands look for alternative ways to meaningfully engage with consumers amidst mounting evidence of widespread digital fatigue and "banner blindness", DOOH offers them an opportunity to interact with their target audience in the context of their daily routines. Digital OOH signage is highly visible, plus unskippable and adblock-proof. And now that people in most parts of the world have returned to normal life, there's evidence that consumers are actually more receptive to OOH messaging, especially in larger urban areas.
According to a 2022 report from the Out of Home Advertising Association of America (OAAA), over half (55%) of consumers who live in big cities (1 million+ population) are noticing more OOH messaging and signage today than they were pre-pandemic, compared to 41% of the population as a whole. Brands can amplify their message and build brand awareness as consumers are exposed to DOOH media at multiple touch points as they go about their daily routines. To go a step further, marketers also have the option to retarget consumers exposed to DOOH on mobile, opening even greater opportunities to reinforce their brand message.
Deliver compelling advertising experiences through context, not cookies
As brands look for alternatives to a cookie-less future, the majority of global ad executives—a whopping 85%, according to market research commissioned by Alfi—predict that DOOH ad spend is only going to increase in the coming years. That's because DOOH audience tracking data is completely different to online tracking—meaning that data privacy concerns are greatly reduced, if not entirely eliminated. Rather than gathering and storing highly sensitive personal data about individual consumers, digital out-of-home targeting uses mobile location data to build a complete, yet anonymized picture of target audience movement. This makes it possible to discover patterns of consumer behaviour without collecting unique identifiers.
Contextually-relevant advertising has been proven to lift ad awareness and brand recall in addition to driving foot traffic and sales. Thanks to its mass reach and recently developed dynamic capabilities, advertisers can use DOOH to serve consumers with relevant content that cuts through the cluttered digital ad landscape and leaves a lasting and meaningful impression without being intrusive.
Engage and influence consumers close to the point-of-sale
One of the biggest advantages of DOOH is the ability to engage consumers when their intent to buy is higher than when they're online and might be doing other things, such as working, browsing social media, or chatting with friends. Crucially, DOOH enables brands to reach consumers with digital signage while they're on the path to purchase—at public EV charging stations, in transit hubs, or with roadside billboards—and right at the point-of-purchase—inside convenience stores, malls, grocery stores, and other retail locations.
The advantages of in-store DOOH
As brick-and-mortar retail businesses rebound from the pandemic, one thing is for sure: the digitization of the physical store will radically transform retailers' ability to provide dynamic, interactive media experiences at store shelves, end caps, cooler doors, and checkout aisles.
While the last few years have fueled massive investments to support the growth of online retail media networks (RMNs), in-store retail media offers audiences that are an average of 70% larger than digital audiences for leading brick-and-mortar retailers like Walmart, Walgreens, and Target. At the same time, digital in-store signage opens up new storytelling possibilities through the use of dynamic content, offering brands unique opportunities to engage with customers and leave a lasting impression.
READ ALSO: In-store vs. online retail media: How each one impacts the consumer shopping experience
In short, in-store DOOH is a type of media that not only operates as a way to reach high-intent shoppers, but also as a method of delivering a more information-rich and relevant in-store experience for consumers.
Maximize the effectiveness of cross-channel campaigns
As the number of potential marketing channels grows even further, designing multi-channel marketing campaigns will continue to be key for reigning in top-tier customers. And while DOOH is a strong tool on its own, it really shines when paired with other advertising channels. Research from Verizon Media found that using digital OOH media alongside a web or mobile campaign increases audience reach by as much as 303% and lifts foot traffic by an average of 68% when combined with social messaging. Simply put, DOOH supercharges multichannel and omnichannel marketing strategies and is proven to increase the effectiveness of your entire campaign.
The growing opportunity to activate DOOH as part of programmatic campaigns has coincided with a rise in confidence amongst digital marketers using it. According to Statista, spending on programmatically traded digital out-of-home advertising (pDOOH) in the United States almost tripled in the past two years, jumping from USD$180 million in 2020 to USD$530 million in 2022. In addition to improved accessibility, programmatic DOOH offers marketers and brand advertisers the ability to measure digital OOH advertising efforts via omnichannel and multitouch attribution models—making it easier than ever to incorporate, and track the impact of, this powerful media and advertising channel.
Pack a punch with innovative and impactful creative
When it comes to ensuring your campaign stands out and captures the attention of your target audience, there's no better medium than digital out-of-home. Research shows that creative quality accounts for nearly 50% of campaign effectiveness, making it the single largest driver of brand impact—and DOOH, with its radical evolution of the OOH industry and abundance of data, offers unmatched creative possibilities for engaging passing consumers. From large format screens that can't be ignored to place-based displays that integrate seamlessly in contextually relevant environments, DOOH provides contextually relevant engagement opportunities that other media channels struggle to match. With its continuous innovation helping drive the creation of things like moment-based triggers or environmental data activation in recent years, it's changing how brands connect creatively with consumers—all while expanding creativity and improving ROI.
Want a real-world example of the power of DOOH?
Check out how foodora used DOOH to reach a million viewers in just one month!